Five Great Locations Worldwide to Go Diving in 2019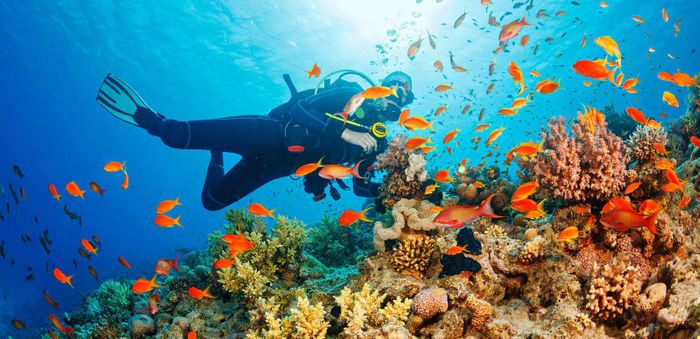 A comprehensive list of the best dives for scuba aficionados on the lookout
Everyone has a list of things they would like to accomplish before they die. For diving enthusiasts, that list often exclusively consists of beautiful and strange dive locations. Since nobody can claim to have the definitive list of the best dives around the world, you can consider this list a suggestion or places that might be of interest to diving enthusiasts.
1. Barracuda Point, Sipadan Island, Malaysia.
Walls of corals act as a home to sharks cruising by as you're surrounded by massive schools of barracuda. This is a location where you're guaranteed to see majestic, larger-than-life feats of nature. Occasionally, strong currents flow over an underwater prairie full of white tip sharks, turtles, groupers, parrotfish, and of course the eponymous barracuda. What makes this a particularly great location is that the Malaysian Government limits the island to 108 people at a time - including service staff, diving instructors, chefs, and tourists. Which means while it's a hard place to get to and requires meticulous research and timed bookings, the end result is a picturesque dive location with fewer people than you might find at the Dubai Mall on a Tuesday afternoon.
2. Blue Corner Wall, Palau, Micronesia.
This is absolutely one of the finest dive locations on this list. This spot combines diving at Blue Holes and the promise of numerous species of shark, massive schools of fish, gorgeous reefs festooned with coral, and lots of underwater caverns to explore. The best way to experience this dive is from a Palau liveaboard cruise, but obviously you're not limited to that option. Blue Corner is also known for its variable currents, that are infamous for changing their direction at the drop of a hat, making it a great location for drift diving. The reef is best experienced when the ocean currents are strong, drawing in large schools of fish as well as predators. It goes without saying that novice divers will want to upgrade their scuba certification before attempting this dive.
3. The Yongala, Australia.
The Yongala is a shipwreck just off the coast of Queensland. This is a great location to spot manta rays, sea snakes, octopuses, turtles, bull sharks, tiger sharks, and coral. The Yongala sank back in 1911, causing the deaths of 122 people, a racehorse named Moonshine, and a red Lincolnshire bull. It didn't have telegraph capability and therefore could not be forewarned of an incoming storm, nor could it ask for help. In 1981, the Yongala was officially granted protection under the Historic Shipwrecks Act.
4. Thistlegorm, Egyptian Red Sea.
Another large wreck, the Thistlegorm actually needs multiple dives if you want to fully explore it. This British vessel was attacked from the air and sunk in 1941 during World War II, whilst carrying a cargo of war supplies: rifles, motorcycles, train carriages, locomotives, etc. A lot of these are still inside the wreck and can be seen while diving. The Thistlegorm can be a fairly challenging ride depending on currents and weather conditions, and currents can be quite strong at times. Due to its depth and unpredictability, this dive is reserved to Padi Open Water Advanced and CMAS 2-Star divers.
5. Shark and Yolanda Reef, Egyptian Red Sea
This reef is actually three different dives: anemone city, shark reef, and the wreck of the Yolanda. Strong currents make this a good drift dive location, and it's frequented by pelagic fish. The dive begins at Anemone City, from where you drift towards Shark Reef and its drop-off, finishing on the wreck of the Yolanda, famous for its cargo of baths and toilets. This dive is teeming with life all throughout the year, and while it's definitely one of the safer wreck dives out there the depth of the wreck itself makes it great for more advanced divers.
You can download the video here.