13 Aug 2020
Jimmy Carr's secure "Terribly Funny" tour in Dubai : Sold Out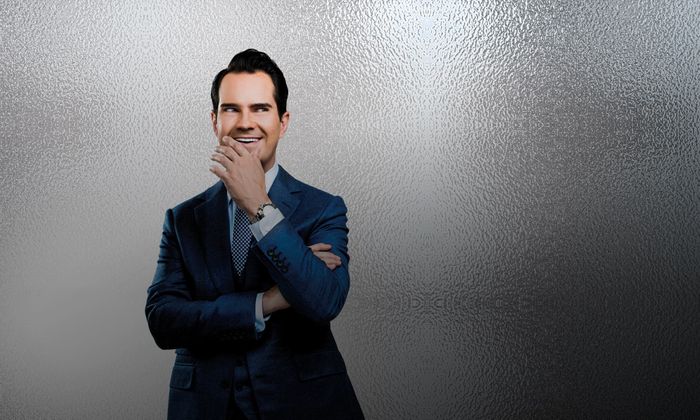 First gig in 22 weeks for comedy legend a testament to UAE's handling of pandemic
"If a comedian tells a joke and there's no audience there, is it anything?" We weren't expecting our opening interaction with legendary British comedian Jimmy Carr to be quite so philosophical, but perhaps an unforeseen consequence of having to spend so much time at home has rendered us all budding logicians? The star of stage and screen returned to his natural habitat for the first time in 22 weeks on Wednesday night at Dubai's World Trade Centre for the first of a three-gig 'Terribly Funny' tour and was relishing the opportunity to get back to his trade and craft in front of actual people. "I hadn't realised how much attention I need," the stand-up stated after telling us the sell-out performance went well. "During lockdown my family found out - eight o'clock every evening I need attention!"
In his native London, where the Covid-19 pandemic maintains a strong grip, theatres unfortunately remain shut as a result of the ongoing measures to prevent the spread. An invitation to the UAE, therefore, provided perhaps the only outlet in the world to again thrive in the spotlight.
"The guys here have put on a beautiful show when nobody globally is doing so," Carr said. "It (Wednesday's date) was socially distanced and responsibly done. It's a half-full arena which really felt full.
"It feels like the authorities here really nailed the lockdown. Everyone is wearing face masks. Walking around it feels like we're through the worst of it. Playing a live event is such a privilege. We are tribal creatures. I think it's a fact you're eight times more likely to laugh when you're in a group."
According to the promoter, all Done Events team members took COVID-19 tests on site on the first day of build and received results within 24 hours.
Guests were temperature checked upon arrival into the Dubai World Trade Centre
Visitors entered through different entrances depending on their tickets. Temperature checks were in place, face masks were mandatory at all times, although pictures from the night suggest they could be taken off while watching the performance.
Seats were sanitized, with some seats left free in-between groups, seats in use were marked by a banner that was broken when ticketholders took their seats for the first time.
The food and beverage offering in an adjacent hall was available for two hours before the show and during intermission, guests accessed the menu via a QR code, only cashless payment methods were accepted on performance nights.
Queuing systems with markers to indicate the correct distances were in place at all entrances and F&B areas. Ushers made sure guests left the building in groups after the show.
How will you be exploring Dubai during your stay?
"I did a little bit of shopping in the 'enormo-mall' (The Dubai Mall). I got lost! I felt like a toddler. I needed to ask a nice man the way back to my hotel. It's also incredible here if you're a foodie. I'm a big fan of Katsuya: my favourite Los Angeles sushi place. That's here. There's La Petite Maison, Zuma, everything is here."