19 May 2019
Changing The World: Josef Kleindienst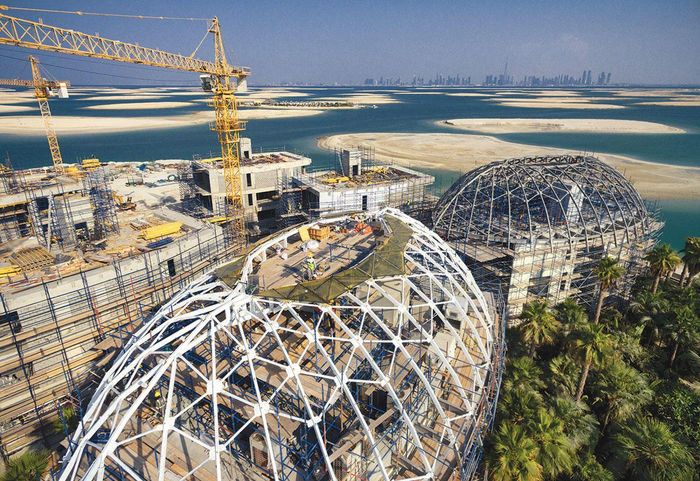 t's often criticised for its 'outlandish' projects, but Dubai is making one dream - The World islands - come true with the help of the Kleindienst Group, currently recreating Europe off the coast of the Gulf city
Dubai has often made global headlines for its many iconic – some would say wacky – project proposals over the years. There have been underwater hotels, buildings that rotate, towers in the shape of chess board pieces and all manner of celebrities, from Steven Gerrard to Lindsay Lohan, who have been linked to them.
But sometimes, the outlandish dreams do come true: the Burj Al Arab was one of the first buildings on a manmade island and celebrates 20 years this year, while the Burj Khalifa is still the world's tallest tower after nearly a decade since being built.
And then we come to The World, Nakheel's archipelago of manmade islands off the coast of Dubai in the shape of the globe, an incredulous idea which actually made it from the drawing board to reality – as evident to the nearly 90 million passengers who flew in over the Dubai coastline last year.
Sweden Island will be home to 10 premium quality waterfront villas
But, as soon as The World was built, it was as if the rest of the world wanted it to fail. Construction of the 300 islands began in 2003 and the manmade sand banks rose out of the sea in 2008, just as governments and markets around the world were engulfed by the global financial crisis. Suddenly, development on The World ground to a halt and all went quiet.
There was a ripple of initial excitement when one developer launched a party island on Lebanon, but it was short-lived as struggled to survive.
Every so often, the British press seem to relish in declaring that The World islands are sinking back into the sea, the project is dead, that Dubai should be scolded for having such crazy, outlandish dreams and should go back to building straightforward towers in shiny colours.
When tourists visit a place like Dubai seven times, [they] will buy a property there
Then along came Josef Kleindienst, an Austrian with a strong accent and even stronger ambitions. He was going to recreate Europe off the coast of Dubai. He wanted to have it so that visitors to his project on The World could have breakfast in France, go for a brunch in Sweden, lounge by the pool in Monaco and finish the night off by partying in St Petersburg, all without taking a single flight. His dream was The Heart of Europe project: a cluster of six islands owned by the Kleindienst Group.
Launched in 2014, like The World project itself, it has faced a barrage of negative headlines: It was embroiled in a raft of legal cases with developer Nakheel, a model of one of its floating homes sunk into the sea during a particularly stormy New Year's Eve party, there were accusations and confusion over who was regulating the project and – of course – the usual tabloid tales that the islands were, in fact, sinking back into the sea. There are nearly 20,000 stories online alone about the project.
Therefore, when The World announced this month that it was moving full steam ahead, had recorded massive sales figures for the first quarter and was due to start handing over its first units in May, it was met with almost jaw-dropping surprise.
Kleindienst Group says it aims to complete the project by the time Dubai hosts the Expo next year
Is The World finally about to become a reality? Is the dream still alive? Judging by the numbers, it seems to be the case, according to the chairman of the Kleindienst Group.
"As of Q1 2019, [The Heart of Europe] sales increased 69 percent compared with 2018 for a total of AED345m ($93.9m). For us, it is proof of concept," says Kleindienst, as we meet at his company's headquarters overlooking the Dubai coastline and The World islands.
Kleindienst confirms that phase 1 of the project is "fully sold" and the first units will be handed over by the end of this year.
Phase 2 is already under construction. Phase 3 enabling works is completing and construction will start in this year
He also confirms that since the end of last year, Kleindienst has sold around 80 Floating Seahorse Villas: the half boat, half villa-style concept his company launched at the 2015 Dubai International Boat Show and which sell for up to AED20m each.
The project, which has over 2,000 workers, engineers and designers on site, includes climate-controlled streets that aim to recreate 'the feeling of Germany in the desert' all year round.
"The model for world-class second homes in Dubai is working. The record sales this quarter have reinforced the concept with many investors who now understand the definition of second homes either as a holiday retreat or as a good financial investment with guaranteed returns.
Germany Island will be constructed with 15 beach villas and 17 lagoon properties
"Whether you welcome friends and family to spend time on a Floating Seahorse Villa or your suite in one of the 13 hotels, the trend is moving towards second homes and income-generating assets," says Kleindienst, who doubled his workforce on the project last year and is set to hire an additional 250 new staff per month during the first six months of 2019, as the scheme moves towards the completion of phase one.
Phase 2 is already under construction and will be completed in 2019/20, he says, while Phase 3 will begin construction this year and be completed in 2020/21.
"We're cynical… but even we are looking forward to the launch of this one," he says.
Right place at the right time
So what is the difference between Kleindienst and other developers who have failed to initiate construction on The World?
"Timing," says the chairman.
The trend is moving towards second homes and income-generating assets
To understand Kleindienst's reference, let's go back in time to Austria and Hungary in the late 1980s, when political stability was slowly beginning to return, lasting economic reforms were introduced and a strong foreign policy that allowed trade with the West was just being established.
Living through these transitions was the 20-something Josef Kleindienst. A police officer at first, he later opened a property brokerage and investment firm that ultimately built an international property portfolio in some of the world's most coveted locations: Dubai, Germany, Hungary, Italy, Luxembourg, Pakistan, Seychelles and South Africa.
His formula for success in all those markets? You guessed it: timing.
Côte d'Azur project at the main Europe Island will be a luxury beach hotel with 839 keys
"Before we invest in a market, we divide [it into] four phases. Phase one and two is the time we invest, three and four [is when] we [leave] the market," he explains.
This is exactly what he did in Dubai, too. Kleindienst invested for the first time in the Gulf city in 2002 and exited the market in 2008, right before the first financial crisis that dented the country's economy.
The group invested again in 2009 and sold in 2013 before the next economic downturn. They haven't just been keeping track of the economic cycles, they've been predicting it.
We analyse markets and have a system which allows us to come as close as possible to the lowest entry prices and the highest prices for exit
"We analyse markets and have a system which allows us to come as close as possible to the lowest entry prices and the highest prices for exit," says Kleindienst, who counts the Dubai World Central, Dubai Investments Park, Jumeirah Village and Dubai Waterfront as some of his investments.
"We sold in 2013, because we expected in 2014 that prices in Dubai will go down. But we know when we will invest again in the city. In the meantime, we are busy on the islands," he says.
Dubai is well known for its reliance on debt, but Kleindienst says this is not the case when it comes to The Heart of Europe, saying it was funded with the help of "friends and family" who have pumped close to AED 1.5bn ($408m) into the project.
The Floating Seahorse boasts more than 4,000 square feet of space across three storeys
"So, the funding model is [our] own funds plus off-plan sales," he claims.
With prices ranging from AED15m ($4.1m) for a villa on the Germany island to AED1.3m ($381,129) for the Portofino suites, Kleindienst says demand has been strong due to the unique nature of the project and projection of healthy returns for investors.
"We have calculated and provide guaranteed return to our investors. Right now, over a period of 12 years, we guarantee 100 percent return will be earned through touristic operations and we provide a 100 percent space guarantee on top. It means that whatever we are selling to investors, we keep the same space to guarantee the returns," he says.
Kleindienst has a theory that when tourists "visit a place like Dubai seven times, [they] will buy a property there."
Realtors, therefore, shouldn't necessarily target wealthy first-time visitors, he says, but ensure repeat tourists are snapped up as they've already been sold on the dream of Dubai.
Another untapped market? The $9 billion divers sector. "Today, we will not find divers coming to Dubai as tourists for diving. We will bring this industry as we are bringing a surface of 500,000 square metre coral reefs. So, we will attract divers to come as tourists," says Kleindienst.
With The Heart of Europe islands taking shape, we can't help but think of all the projects around the world which are much less wild than manmade islands, yet have faced focus groups objections and been left to gather dust in government think tanks for decades – London's third Heathrow runway anyone?
Meanwhile, Dubai is making its so-called outlandish dreams come true.