18 Aug 2019
ENATA upgrades Foiler design for 2020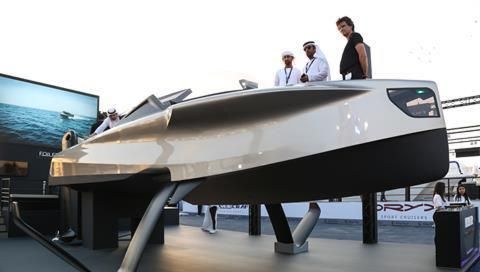 Hailed by its builders as the world's first production foiling yacht, UAE-based ENATA Industries' new 'Foiler' had its world debut at the Dubai International Boat Show in March 2018 and has now been upgraded.
The company has released images and details of its new 2020 edition which, according to the company, has received many upgrades. It features a new forward cockpit with a revolutionary joystick which ENATA says will give the ultimate experience of flying above the water with the pilot comfortably seated in the bow.
"The new joystick creates a unique and instinctive driving experience," says ENATA. "You sail, or should we say fly, in complete serenity. With power and controls at your fingertips, you overtake conventional slamming and rolling powerboats effortlessly. From the traditional driving console with its wheel and throttle, you can choose to activate the joystick installed on the front seats. The joystick then controls the speed and direction of the Foiler. By pushing forward or pulling back on the joystick, you can adjust the speed from a standstill up to 40 knots, tilting on either side controls the direction. This innovation that ENATA has developed over the past year, makes you at one with the Foiler which becomes like an extension of your body".