17 May 2019
Feadship opens fourth yard in Port of Amsterdam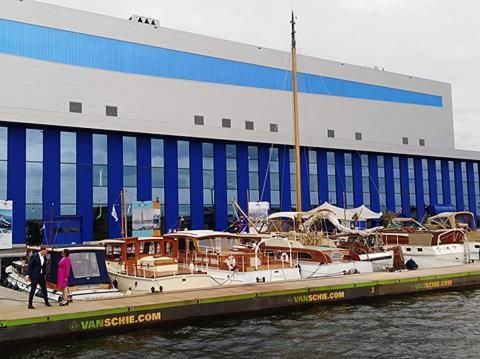 Move reflects Dutch builder's long search for sustainability strategy
Dutch superyacht-builder Feadship has officially opened its fourth yard, a vast and eco-friendly complex in the Port of Amsterdam. The inauguration by Queen Maxima of the Netherlands coincided with the 170th anniversary of Royal van Lent Shipyard, a constituent member of the Feadship alliance.
"There was a plain need for a yard with deep water access," said Royal van Lent CEO Jan-Bart Verkuyl. "Yachts are getting longer."
The new yard took two years to build, is only 15 minutes from Schiphol Airport and 20 kilometers (12 miles) from the North Sea. "Amsterdam is one of the sexiest cities of Europe, with a maritime history, good hotels and restaurants and near our suppliers," said Verkuyl.
He called the new facility that is covered by some 2,300 solar panels "the most eco-friendly build hall" in the world – a theme Feadship marketing and brand sirector Farouk Nefzi said has come to top his company's to-do list.
He said the superyacht industry must become much more sustainable. "You see fragments of that here and there, but not in a consistent way."
Feadship wants to play a lead role.
Several years ago, it formed a 100-strong R&D taskforce to explore ways to make the company more sustainable by researching synthetic fuels, energy recovery and other technologies. It is a main proponent of the idea to issue eco-labels to large yachts.