23 Jul 2019
High Net Worth Individual wealth declined by 3% but not in the UAE up by 4%!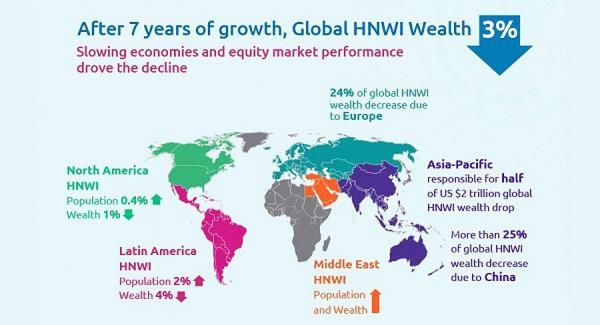 HNWI wealth declined in every region except for the Middle East, which saw 4% growth in wealth and 6% growth in HNWI population because of strong GDP growth and financial market performance, according to the
Capgemini
report.
High Net Worth Individual wealth fell by 3% in 2018, according to technology consultancy Capgemini's annual World Wealth Report. The total wealth loss amounted to $2 trillion, with particularly strong losses among China's elite driving much of the overall decrease.
The 3% decrease in HNWI wealth came after seven consecutive years of growth, as equity markets slumped and regional economies slowed. The global HNWI population, meanwhile, declined by 0.3%.
The Asia-Pacific region accounted for half of the $2 billion worldwide decline, with the region losing 5% of its HNWI wealth and 2% of its HNWI population. China itself was responsible for 53% of Asia-Pacific HNWI wealth loss and more than a quarter of global wealth loss.