01 May 2020
Interview with top Dubai Boat Show exhibitor, the new Acting CEO of Gulf Craft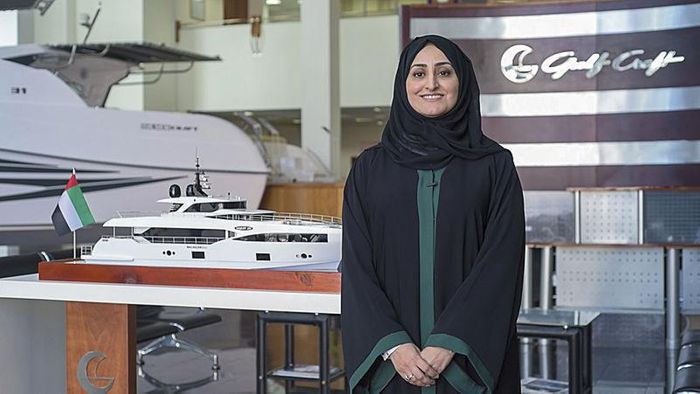 Following a major restructuring at the company announced at the beginning of this year, The SuperYacht Times gets an exclusive interview with the new Acting CEO of
Gulf Craft
, Abeer Alshaali, alongside her father, Executive Chairman and company founder, Mohammed Alshaali, and discovers what's next for the UAE-based business.
Located in the north of the country as the least populous of its seven emirates, Umm Al Quwain has a population of 72,000 inhabitants and a total area of 770km², with its closest body of water being the Persian Gulf. Known as a site of significant Bronze Age archaeological importance due to the unearthing of a bounty of ancient coins, arrowheads and ceramics in the area, Umm Al Quwain is also home to numerous sites of interest including a fort, the ancient near-eastern city of Ed-Dur - the largest pre-Islamic site on the Persian Gulf coast - and Dreamland Aqua Park (the largest water park in the UAE).
As of the year 2001, however, Umm Al Quwain has also been the home base for the UAE-based shipyard Gulf Craft's largest manufacturing facility, where its first superyacht over 30 metres, the Millennium 118, first touched the water.
he location for the building of Gulf Craft's boats was originally found elsewhere, however, at a 218,000 square-foot facility in Ajman, the smallest of the UAE's emirates, which was established by keen fisherman and boater Mohammed Alshaali with his brother back in 1982.
Starting off small by producing 14-foot runabouts targeted at the local market before reaching the milestone of the company's first fishing boat, the Sport Fishing 24, the founding of the company by Alshaali originated from his personal experience with the prohibitive expense of shipping the boats he wanted to use for his fishing hobby from Europe or the USA to the UAE. "The idea came to us as the costs of shipping were just too much every time I wanted to buy a boat, so I thought why don't we just build them here for ourselves?" To transform this idea into reality, Alshaali began discussions with other companies who were building boats predominantly in the USA.
"We bought the technology from them, used their expertise, purchased some moulds and that's how we started." But launching a fibreglass boat-building business in a country which, as Alshaali describes it, "had no boat-building industry and no supporting industry behind it" presented its own series of challenges for the co-founder, who was also juggling this new endeavour with a diplomatic career serving as UAE ambassador to the US at the time.