10 Mar 2020
Rare blue whale spotted off UAE Coast with Dive MENA exhibitor Divers Down!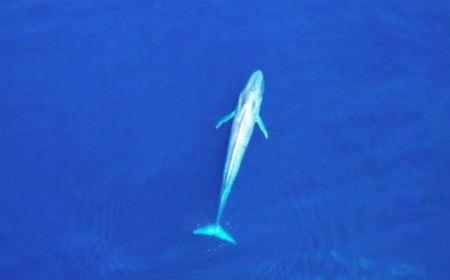 A blue whale, the largest known animal on the planet, was spotted off Khor Fakkan coast on Friday.
The rare sighting of the giant whale was captured on camera by one of the divers in the area.
The group of 10 divers was returning back to Al Aqah after a diving trip at Shark Island in Khor Fakkan, organised by Divers Down Centre.
"This is my very first dive in the UAE and we were about ten divers in the boat when we saw the whale," said Mark Similey, a 52-year-old American who came to Abu Dhabi three weeks ago.
The long, slender mottled grayish-blue whale was spotted around 11am on March 13.
"We were coming back from our first dive from a dive site called Shark Island 11am when one of the instructors on the boat pointed out a blow from the whale," said Mr Similey, who is also a certified dive instructor.
"Everybody looked and the boat was directed towards the whale and when we got closer we saw the whale approach almost right by the boat but I didn't have my camera at the time."
Blue whales are a threatened species and in danger of extinction.