13 Aug 2019
Super-yacht concept launched at Dubai Boat Show costing £10million is capable of travelling around the world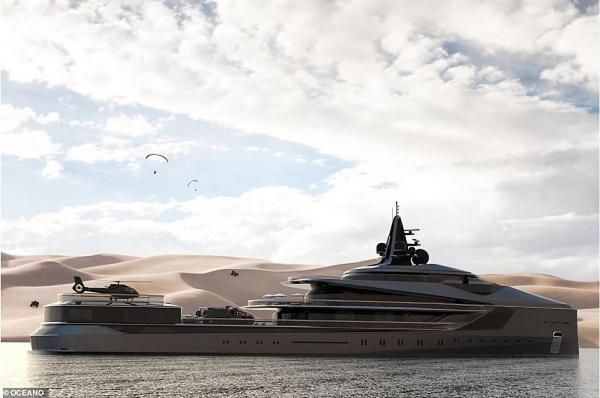 plus it has its own science labs, a submarine and even a helicopter.
A £10 million superyacht launched at Dubai Boat Show is capable of voyaging to the ends of the earth has been designed - complete with its own submarines, a 4x4 car, motorbikes, a helipad helicopter and even scientific laboratories.
With a top speed of 16.5 knots, the 'Esquel' is intended to be able to travel from the Arctic to Antarctic Oceans and offers its owner the chance to go exploring when they get there.
The laboratory capability is believed to be an optional extra and could be used to grow coral in a controlled environment to see how it is affected in different regions of the globe.
The extraordinary vessel was designed by one of our prime exhibitors 'Oceanco' in Alblasserdam, Netherlands.
A spokeswoman for Oceanco said: 'A perfect blend between an expedition vessel and a sophisticated superyacht, Esquel offers the best of both worlds.
'Her expansive main deck measures 200 square meters has an aft deck glass superstructure with an enclosed pool and wellness area.
'This also offers plenty of space for accommodating locked containers of any sort, as well as additional tenders and off-road vehicles.
'For those interested in marine biology and ocean conservation, Esquel can become a platform for any number of scientific studies such as coral aquaculture -creating reef farms aboard to help restore our world's dying reefs.'
They add the super-yacht has a very flexible layout and can be adapted to house additional multi-purpose cabins, first response units, seminar areas, and research offices.