10 Jan 2019
10 Tips for Divers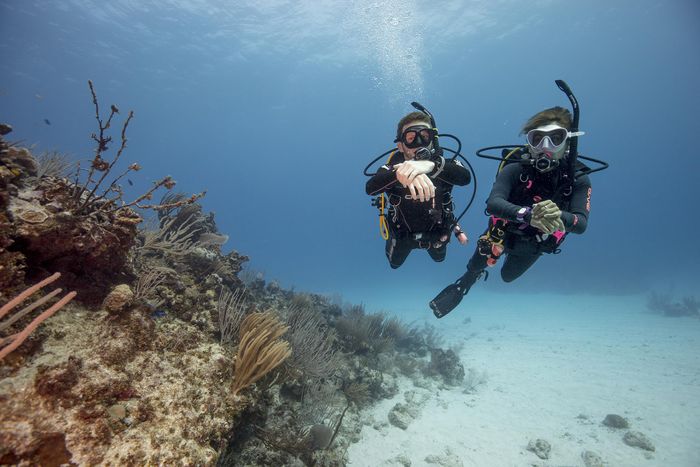 Becoming a scuba diver is something that is on many people's bucket list – being able to immerse yourself in the underwater world and feel at one with the ocean's inhabitants without the need to come to the surface for breath is indeed a privilege. But with this privilege comes responsibility; we must make sure we leave only bubbles and take only memories. As corny as it may sound this is vital to the survival of this unique world we visit.
Coral reefs, oceanic sea grass meadows and kelp forests all help to keep our climate in check. It's estimated that seaweeds sequester around 173 million metric tons of carbon each year, which is about the same as the annual emissions of the state of New York. By ensuring all PADI divers are educated about the need to practice responsible diving we ensure that our presence does no harm.
Project AWARE has developed its 10 Tips for Divers to ensure we make a difference for ocean protection every time we dive, travel and more;
#1 Take Action – Speak out for conservation, share underwater images, report environmental damage and campaign for change.
#2 Give Back – Donate or fundraise for ocean protection to fuel the grassroots action and policy change necessary to ensure a clean, healthy ocean planet.
#3 Be an Eco-Tourist – Make informed decisions when choosing and visiting a destination. Choose facilities dedicated to responsible social and environmental business practices.
#4 Shrink your Carbon Footprint – Do your part by understanding and reducing your carbon footprint and look for ways to offset what you can't reduce.
#5 Be a Buoyancy Expert – Underwater plants and animals are more fragile than they appear. Always be aware of your body, dive gear and photo equipment to avoid contact with the natural environment.
#6 Be a Role Model – Regardless of your experience level, be sure to set a good example for others when interacting with the environment – while underwater and on land.
#7 Take only Photos – Leave only Bubbles – Nearly everything natural found underwater is alive or will be used by a living creature. If you take a coral, shell or animal, you can disturb the delicate balance and add to the depletion of dive sites for future generations.
#8 Protect Underwater Life – Choose not to touch, feed, handle, chase or ride anything underwater. Understand and respect underwater life and follow all local laws and regulations.
#9 Become a Debris Activist – Don't let your dives go to waste. Remove and report what doesn't belong underwater every time you dive.
#10 Make Responsible Seafood Choices – Overfishing leads to species declined while harmful fishing practices damage and pollute underwater eco systems. If seafood is part of your meal selection, ensure you're choosing sustainably sourced species and encourage others, including restaurants and shop owners to do the same.
When you visit these incredible underwater places there is no way you can leave without having fallen in love with them and often this passion will spur divers onto become some of the strongest advocates for ocean protection. You don't have to be a diver to work towards protecting our Oceans, but it certainly helps!
PADI-endorsed specialties such as the newly revised Project AWARE Specialty, Dive Against Debris® and AWARE Shark Conservation Diver Specialty courses help divers across the world discover how they can help protect the ocean right in their own backyard.
Source: PADI