04 Mar 2018
The Post Event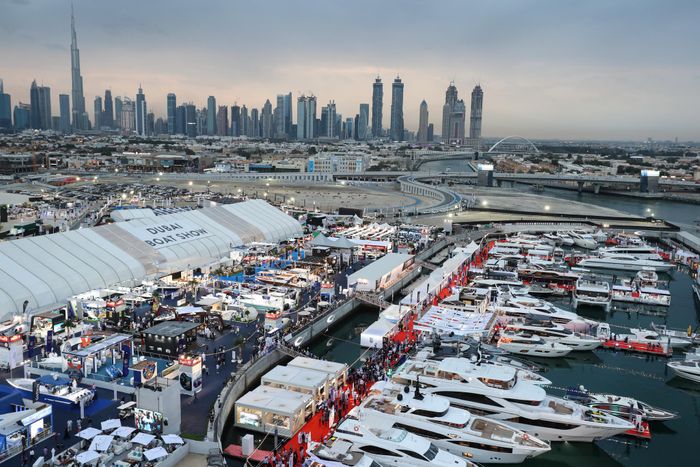 Dubai, UAE: This year's Dubai International Boat Show ended on a high, with local, regional and international visitors attending the region's leading marine event up by 15 per cent compared to 2017.
Held at its temporary home at Dubai Canal in Jumeirah, the 26th edition of the Dubai International Boat Show welcomed some of the industry's biggest companies and brands as well as world-class entertainment, sport displays and fun for the whole family.
A wide range of boats, from superyachts to entry level options to suit all budgets, as well as the latest diving equipment proved popular with visitors and buyers who travelled to Dubai from across the Middle East and further afield.
Theo Hooning, General Secretary of SYBAss (Super Yacht Builders Association) said: "Increased visitor numbers to this year's show further demonstrates the increasing demand for vessels in this class and underlines our forecast for the Middle East's super yacht industry and the potential future growth we are expecting across the region.
UAE-based Gulf Craft reported steady levels of interest from visitors as well as some impressive sales to clients from across the region and beyond.
Erwin Bamps, CEO of Gulf Craft, revealed that the boat builder had sold five yachts worth AED85 million during the 26th edition of the show.
He added: "The new temporary location on Dubai Canal has proved a great success this year and we are delighted to have made five sales during the five days.
"The show not only provides key networking and sales opportunities for Gulf Craft, but also allows us to preview our latest innovations such as the Majesty 140 and our wide range of existing models."
Jalboot, the local distributor for Wajer and Mastercraft, reported a good volume of positive queries for a wide range of vessels that could secure post-show sales.
Mohamed Shaik Roestali, General Manager at Jalboot Marine Services LLC, said: "The Dubai International Boat Show was undoubtedly a success for us, given that both the demand for our products and our potential sales almost doubled as a result of participation this year.
"We also were able to interact with key members of the market such as representatives from the international and B2B sectors."
The show also proved successful for companies selling smaller, more personal watercraft. Stephan Hirzel, Director of Jetsurf, Motorised Surf Boards revealed that, as in the previous two years, the Dubai International Boat Show saw them completely sell out of 100 per cent of their inventory.
He said: "Our stock that we held entering the show has already sold in five days – a total of five sales on site and 15 bookings made, which is great. Every Dubai International Boat Show it happens for us. Overall, the show has been great and visitors have been very receptive and loved our product. We will be 100 per cent be back next year."
Douglas Culverwell, Middle and Far East Regional Manager at Sunseeker International, said this year's Dubai International Boat Show was a great success for the company.
"It has been a very successful Dubai International Boat Show for Sunseeker. We were especially delighted to make three show debuts, the eagerly anticipated 95 Yacht, Manhattan 66, and 68 Sport Yacht all of which were presented by Sunseeker Middle East, owned by the Illyas and Mustafa Galadari Group."
Beyond sales, the 26th annual Dubai International Boat Show also provided visitors with a large variety of entertainment including family fun at the show's beach area which included food trucks, live bands and DJs provided by Red Bull. The weekend saw performances by acclaimed Arab singers Faisal Al Jassem and Oraib Hamdanand and thrilling stunts by watersport athletes, including slack line displays by World Champion Red Bull Pro Athlete Alex Mason.
Visitors were able to enjoy the Nikki Beach Lounge and have a dose of culture in the Marine Art Gallery which displayed see first-hand some stunning, sea inspired art work. Competitions such as the DXB Paddle Race and the Build-a-Boat challenge encouraged friends and family to work together to test their skills on water.
Trixie LohMirmand, Senior Vice President, Exhibitions and Events Management of Dubai World Trade Centre (DWTC), said: "This year's Dubai International Boat Show was one of the best yet.
"The fun came in all shapes and sizes from superyachts, sailing and speedboat experiences, to high-flying stunts and family entertainment at the Dubai Canal in the heart of Jumeirah.
"The Dubai International Boat Show once again proved itself to be the ideal platform for some of the biggest companies to showcase their products and interact with clients.
"The higher number of visitors this year and the positive interest shown by clients shows just how important the show is to region's marine industry."
ENDS
About Dubai International Boat Show:
www.boatshowdubai.com
Dubai International Boat Show, the most trusted and established marine industry exhibition in the Middle East, is a showcase of yachts and boats from both local and international builders together with the latest innovations in marine equipment and accessories. The multi-award winning show showcases the latest leisure boats, equipment and associated services in the Middle East. Exhibitors include both local and international boat manufacturers as well as the latest innovations in marine equipment and supplies.
About Dubai World Trade Centre (DWTC)
www.dwtc.com
Dubai World Trade Centre offers more than 35 years' experience of delivering world-class events in the Middle East, providing local, regional and international exhibitors with unmatched expertise and in-depth market knowledge.
Our team organises 20 of the largest and most successful international and regional shows in Middle East, providing an ideal platform for business development in the region. Our commitment to ongoing innovation within the exhibition industry has supported the rapid growth and development of a wide range of business-to-business and business-to-consumer shows, and delivered consistent satisfaction to exhibitors and visitors.
For more information, please contact:
Kathleen Burbridge
Seven Media, Tel: (+971) 56 484 6034