28 Nov 2018
Industry leaders at the Middle East Yachting Conference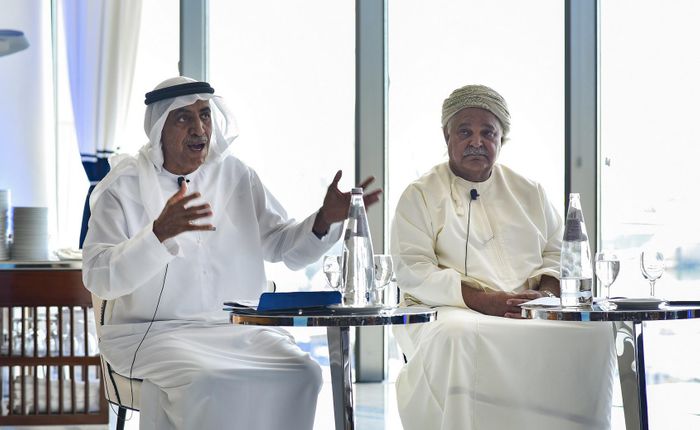 Organised by the Dubai International Boat Show, the Middle East Yachting Conference called for greater interaction between GCC countries to further support the superyacht market
Panelists including Gulf Craft Chairman His Excellency Mohammed H. Alshaali praised UAE for implementing new rules that are already transforming ease of yachting
Dubai, UAE; 28th November 2018: The relaxing of maritime laws and an ever-growing tourist offering have been instrumental in supporting the UAE in its growth as an international superyacht and charter market.
That was the view of His Excellency Mohammed H. Alshaali, Chairman of Emirates-based yacht and boat builder Gulf Craft, as he spoke at the region's 12th annual Middle East Yachting Conference.
Organised by the Dubai International Boat Show, the one-day conference gathered more than 50 leaders from across government, business and tourism to dissect how both the yachting industry and the GCC's regulatory authorities are working together to reinvigorate the region as a global yachting hub.
Four panels of distinguished speakers agreed that recent changes to maritime and tourist laws were changing the standing of the Middle East – Dubai in particular – as a chartering hotspot.
But while he conceded that the superyacht market was turning in favour of the chartering industry, His Excellency insisted work still needs to be done to solidify the region's yachting reputation.
He said: "The revising of regulations such as the recent extension of crew visas is very important. Gulf Craft has pushed hard for changes like this. I am glad that a lot of things are being looked at in regards to the regulations of visiting yachts, superyachts, crew and captains, and the changes so far have been very good for the industry. But still there are challenges to overcome. We're not done yet, and we will continue to push. It is not just in our interest as a shipyard, but for the country – for tourism. Other countries rely on this type of tourism, and we should do the same."
Asked about his business outlook on the industry, His Excellency said: "I have seen growth in the region's industry in regards to people shifting from mid-sized to larger yachts. There are more people in the market for bigger yachts nowadays. I think the market in the region is stable. That allows us to look further towards the international market, where we are seeing growth."
His Excellency was discussing the regional and international superyacht market alongside Dr Mohammed Al Barwani, chairman of multi-award winning superyacht-builders Oceanco.
Dr Al Barwani said: "The new laws and efforts that have been made are very good. We need to encourage the charter market in the region, and regulation changes will allow more boats to visit and more boats to be chartered from here. This is a good area. It's too cold in Europe and out of here you can travel from here to Oman, from Oman to Seychelles to Maldives and so on."
This was the 12th annual Middle East Yachting Conference organised by the Dubai International Boat Show. Other esteemed panellists and speakers included Hamed Hassan, Director of Registration and Licensing at Dubai Maritime City Authority; Luc Khaldoun, Senior Director Maritime Projects, MERAAS; Eng Khalid Al Qubaisi, Director Maritime Safety, Department of Transport Abu Dhabi; Saeed Al Dhaheri, Manager, Special Interests Tourism, Department of Culture and Tourism; Jonathan Hind, Managing Director, Burgess; and Billy Canellas, General Manager, Yas Marina.
Discussions covered the future of chartering, the marketing of superyachts to Gen Y, and the growth of the market both regionally and on an international scale.
With the global yacht industry set to be worth $74.7 billion by 20221, the GCC aims to be well-placed to ensure maritime regulations and infrastructure match the demanding expectations of this significant, growing sector. Already the world's fourth most visited city2, Dubai's existing tourism proposition helps position the Emirate front and centre to capture an increased share of the Gulf's chartering market.
Maritime laws have recently been revised to help promote Dubai as a hub for chartering. Those have included the fast-tracking of crew visas, which themselves have also been extended in duration, from 21 days to six months – making it easier for owners to put fully-manned yachts out for charter.
It was announced earlier this month that UAE developer Meraas, in partnership with Dubai Holding, had signed an agreement with D-Marin – operator of the largest chain of marinas in the Eastern Mediterranean – to attract international investments in the yacht sector and promote Dubai as the preferred destination for luxury yachting and boating internationally. The scheme will help double the number of berths available across the UAE, while seeking to provide world-class services – plus a calendar of marine activities – to yacht owners and renters that will further strengthen Dubai's positioning as a chartering hub.
Thursday's Middle East Yachting Conference marked three months until the Dubai International Boat Show returns for 2019, running February 26th through March 2nd at the Dubai Canal in Jumeirah.
The 2019 event is set to showcase all-new, breath-taking superyachts, mid-size boats, sailing boats, fishing vessels, water stunts and cutting-edge industry technology, and will bring a pool of local and international boat builders with yachts up to 12 metres in length, proving once again that boat ownership is a dream that is accessible to everyone.
Trixie LohMirmand, Senior Vice President, Exhibitions and Events Management at Dubai World Trade Centre (DWTC), who organise the Dubai International Boat Show, said: "As the Middle East Yachting Conference proved, the face of modern boating is changing. Refreshing approaches to chartering coupled with exciting innovation across recreational sea equipment mean it is now easier than ever for families to live a great life by the sea. As we'll be saying throughout next year's show: 'Let's all live a little'. The 2019 Dubai International Boat Show is the best place to start that journey."
1 Source – Yacht Industry – A Global Strategic Business Report
http://www.strategyr.com/MarketResearch/Yacht_Yachting_Industry_Market_Trends.asp
2 Source – Mastercard Global Destination Cities Index