13 Mar 2018
Gulf Craft sells five yachts worth AED85m at DIBS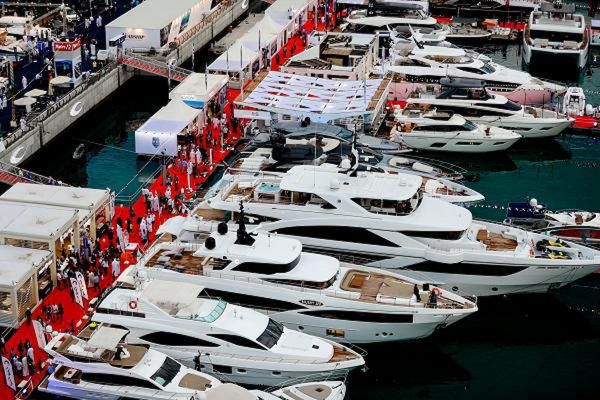 Gulf Craft, the leading Middle East-based yacht builder, reports a strong sales performance from the recent Dubai International Boat Show(DIBS) amounting to five yachts sold valued at AED85m ($23m). DIBS is the company's largest generator of sales and based on its 2018 result it is forecasting "a greater sales momtenum in the coming months."
"Despite the challenges brought upon by new regulations and taxes that were implemented on the manufacturing industry, Gulf Craft has managed to create its own space to grow by delivering unprecedented quality." said Notis Menelaou, vice president of Sales at Gulf Craft.
"We not only continue to invest greatly in research and development," he added, "but also gain a lot from our 36 years of experience. Every time we move in a new direction, we keep our customer's requirements at the forefront. This astute approach helps us to develop premium crafts that are trend-setting."
Gulf Craft has supported DIBS every year since it started and for several recent years it has been the event's largest exhibitor. As part of this and its global marketing activities, the company welcomed 55 of its worldwide dealers to be part of the exciting happenings. The three global premieres – the new Majesty 140, the Majesty 62 and Touring 48 limousine craft - proved to be a resounding success at the show.
The Majesty 140 generated a considerable interest as did the Majesty 62 as an ideal family cruising boat. Gulf Craft's yachts and boats evoked the interest of customers from the Gulf region, Europe, Russia, Australia to South East Asia and it received many sales leads for the yachts on display, especially the award-winning Majesty 100.
As to the new directions mentioned by Menelaou, these were outlined to IBI during the show by group CEO Erwin Bamps. Gulf Craft which two years ago said that it would always be a composite yacht builder, is now increasingly moving towards building ever larger yachts using steel and aluminium.
Bamps, told IBI: "We are moving slowing towards building in different materials. We have talks with a lot of people in the industry about this and also many of our clients who show interest in having yachts in steel and aluminium. We are talking about a number of partnerships which will be announced through this year."
He declined to say where such vessels might be constructed but he pointed to Gulf Craft offering a number of models in both composite and steel or aluminium. "At present," he said, "we are only doing this with the Majesty 175. The Majesty 200 which we have spoken of will definitely be built in steel and aluminium. The largest size of yacht that we have spoken with our clients about is in excess of 60m (197ft)."
Construction of the first Majesty 175 is progressing and is due to be completed in the second quarter of 2019. "It is still for sale but we have not yet decided whether it will be at this show next year," Bamps commented.
As to the new Majesty 140, Bamps commented: "The new Majesty 140 model replaces the Majesty 135 model in the range. It is not just an upgrade. It is a complete redesign. It includes the largest windows that we have now put on a number of our superyachts including the Majesty 100 and Majesty 122."
As to the new Touring 48 unveiled at DIBS 2018, this is a fine limousine boat built with luxury yacht materials that can take up to 15 people, while the custom-made ferry version can take up to 42 guests. It is one of the very few passenger boats in the world that feature a stepped hull made of reinforced composites, a typical design for performance boats. The boat is powered by three 350 hp outboard engines, gaining a speed of 37 knots."
"We are talking with hotels and resorts about this craft as well as a number of African countries, such as Kenya, about river and coastal ferries," Bamps told IBI. "So far we have 10 orders and it is also the first boat that we are building in both the UAE and at our Maldives facility."