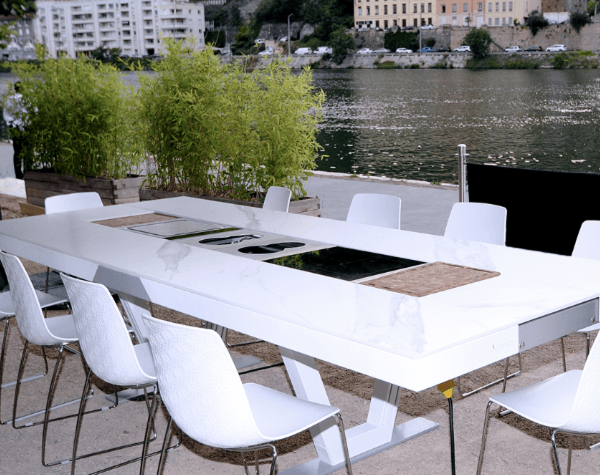 Launch of the new outdoor furniture brand : AUREHUM
The table Agathe, true French art of living !
When we think « French art of living », also named « French touch » by English people, it's above all a new way of life and the way of seeing the world trough a flourishing luxury industry, while
conjugating gastronomy which is indissociable in French mores.
What is essential isn't what we're doing but how we're doing it. The Art being to welcome guests well, while giving them an unforgetable moment, thank's to decoration of rooms, tables but also
trough the choices of materials, flavors, that we are going to offer them to immerse them in an idyllic setting.
One of the products perfectly embodying this lifstyle is Agathe made by Aurehum, based in France, in Rhône-Alpes.
It is caracterised by theses two main aspects, which are : cooking and luxury.
Laurent Jacquelin, funder of Aurehum, wanted to create a friendly outdoor environment. The concept being to gather its guests around a luxurious table that goes beyond simple functionalities
in order to become ambitious.
Entirely modular, it can accompany all phases of a meal, from aperitif to degestive. Its vocation is to make people live authentic outdoor moments and to share each moment with guests in a friendly
and pleasant environment.
The beauty of its materials and its appearance exceeds anything that could have been done before.
When Agathe is closed, its aesthetics and design stand out thanks to its beautiful Dekton tray, illuminating the outdoor living room of your home. But once opened, it's the futurist sensation of
the cooking which is in center of communication.
The center part which hosts cooking appliances and accessories, has a mechanism mouving up and down, developed to simplify the use of Agathe.
The first level stores the cooking appliances and
accessories in the table when it is closed.
The second level allows acces to the cooking appliances and accessories during the dinner.
The third level permits the easy placement and removal of the
cooking appliances and accessories.
Agathe offers a custumizable choice of colors, sizes, cooking appliances, accessories... induction tray, Teppanyaki hot plate, grill, stone grill, wok, raclette grill, griddle, cutting board, ice bucket, LED light, USB plug... all is integrable !