Lloyd Werft launches project DIVA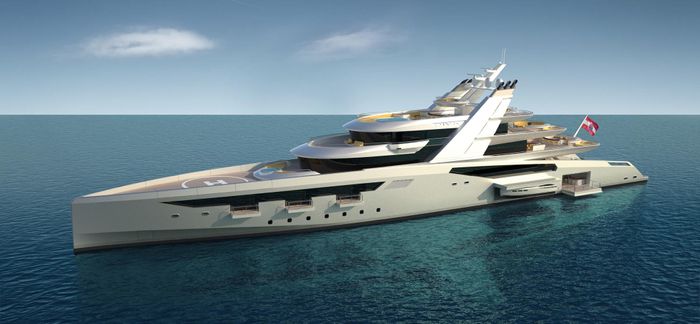 Following the delivery of the 115-metre explorer yacht "Luna" and the current order for a 140-metre yacht project that is currently being outfitted at the shipyard, Lloyd Werft Bremerhaven, launches with DIVA a head turning yacht concept to the market.

Together with the renowned design office judel/vrolijk, the Bremerhaven based shipyard developed DIVA, a modern and 96.50 metre long six-decker with a volume of almost 3000 gross tons. Her dynamic and sporty lines, created by judel/vrolijk, take reference in race sailing yachts: the vertical bow, the reverse sheer line and the sail-like mast.

DIVA features large floor to ceiling glass openings throughout the owner´s and guest areas. Two terraces in the spa area aft, private balconies for the guest cabins and the forward lounge, which can be converted into a cinema, are further opening up the interior to the outside. The helipad on the large foredeck is capable for a six-seater helicopter to guarantee smooth transportation.

Arriving by tender a 8.5m x 4.0m x 1.2m large infinity pool in the aft part of Main Deck will attract attention and inspires to explore A generous wellness and entertainment oasis of around 300 square metres at aft Main and Lower Deck combined with two 18-square-metre shell door terraces providing a "open sea beach club feeling".

The upper decks of DIVA are designed for conversation and entertainment. judel/vrolijk envisaged circular lounges in the stern of the Owner, Bridge and Sun deck, which pull up like a signature element of DIVA, each with different function. On the Owner's Deck, the lounge is featured by a bar counter serving up to six guests and two sunpads facing aftwards and provide a bright view to the sea. The lounge at Bridge Deck unfolds it charm in the evening by a centralized fireplace surrounded by comfortable seats for up to twelve guests enjoying a "campfire" feeling at sea.
Finally, the Sun Deck features two round lounges: one for al-fresco dining, the other as a private retreat enthroned at more than four metres above the forward bar of the sundeck and 16 metres above sea level. For the interior of DIVA judel/vrolijk created an Asian-Scandinavian look – tidy, clean but still with a feel-good factor. As it is common on yachts of this size, the up to ten guests sleep in five cabins on the Main Deck – but on DIVA almost all of them have their own foldable balcony. The owner enjoys a valuable area at forward Owner´s Deck providing privacy for his family with two bedrooms, his/hers bathrooms and a veritable office.

DIVA is powered diesel-electrically with four generators (951 kW each) driving two propulsion pods, ensuring high manoeuvrability and fuel efficiency. An optimized underwater hull form guarantees outstanding comfort level and highest sea worthiness.

In terms of construction of the yacht, clients can expect extremely low noise and vibration levels due to Lloyd Werft's reputation in technology and engineering.

Rüdiger Pallentin, CEO of Lloyd Werft Bremerhaven, is certainly proud of DIVA: "She combines contemporary design with shipbuilding expertise at the highest level. Lloyd Werft is your ideal partner if you are looking for a shipyard with unrivalled reputation for technology and quality."

Torsten Conradi, Managing Partner of judel/vrolijk, comments: "DIVA has been developed with 40 years of experience in yacht design. The project implements some of the freshest and most unconventional features which will surprise and fascinate a lot of owners."

Construction of DIVA could start in summer 2020 with an estimated delivery in summer 2023.